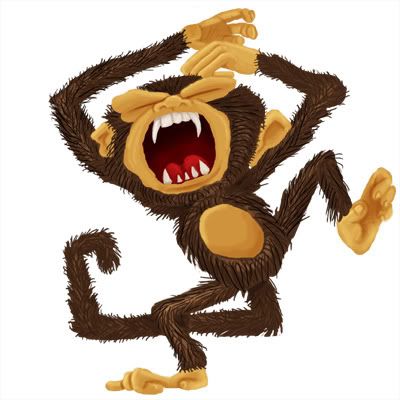 A small detachment of Marines from my command deployed to the Philippines. They had authorization to setup their radars in the boondocks, where they found themselves surrounded by thick jungle. They were far from the party scenes, and scantily clad women that many of the younger Marines had envisioned.
Large black jungle monkeys were their company, as the monkeys would often sneak into the camp and steal whatever they could carry, particularly food. The Marines would chase the monkeys away with sticks and stones; but as days went by, the monkeys grew increasingly aggressive.
The Marines bout with the monkeys came to a climax one afternoon while the Marines were lounging in the shade. The jungle suddenly came alive with screams and frightened animals. The screams were coming from the monkeys, whom had gathered themselves into a large angry mass.
When the Marines looked towards the commotion, they saw the monkeys coming up the dirt road. Some of the monkeys were carrying sticks and stones, and throwing them in the direction of the camp. The sticks and stone would travel only a few feet, as the monkeys had poor technique. The frustrated monkeys would then move closer, pick up their weapons, and repeat the action. Each time, they drew closer to the camp, angrier, and louder.
The Marines, greatly outnumbers and without their weapons, knew that while the stick and stones were not a large threat, it was only a matter of time before the frustrated monkeys fell back on a more traditional attack, hitting and biting.
The Marines then retreated into their Radar Vans and watched through reinforced glass at the frantic monkeys destroyed everything they could get their hands on. When the monkeys finished, they quietly gathered what food they could carry and left. It was a much wilder party than anyone had envisioned.